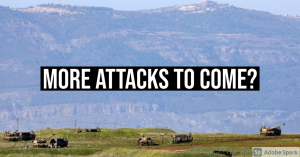 While the US has been consumed with attention over the riots in DC, life continues on in the rest of the world. There are reports from multiple sources that claim Israeli force have been launching attacks on Syria, and according to Vatican News, Syrian forces intercepted air strikes launched by Israel from the Golan Heights.
Syrian state media report Israel launched strikes against targets in the southern part of Syria on Wednesday

According to the Syrian state news agency, SANA, the attack was carried out from over the Israeli-occupied Golan Heights. It targeted several military sites in south of Damascus.

This is the third such attack in a fortnight.

Listen to Nathan Morley's report
The SANA report added that Syrian air defences intercepted most of the incoming missiles.

Residents say the sound of anti-air weapons could be heard over Damascus for over an hour, with television pictures showing a multi-storey building ablaze.

There was no comment from Israel.

UN officials condemn car bombings
In a separate development, the killing of civilians in separate car bomb attacks in northern Syria over the weekend has been condemned by top UN humanitarian officials for the country.

"This year, civilians in Syria will have endured ten years of crisis. These two attacks so early in the new year serve as a tragic reminder of the price civilians across the country continue to pay," a UN spokesman said. (soure)
For a while, the world has been focused on the conflict with Iran. However, the US-militant backed conflict in Syria continues to rage.
Syria is going to be important to watch, because while there is not enough information to confirm this, there may be more US military actions- potentially far more serious -that will be taking place in Syria under a Biden administration.
As always, do not be distracted by the 'dog-and-pony show' of American politics, but keep the focus on other things too, since the world is bigger than the US.