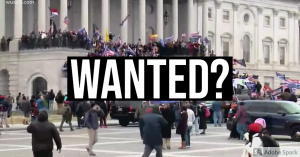 The phrase "mistakes were made", or some variant of it, is frequently used in American public relations terminology to obscure the meaning or events that happen in a given scenario where potentially 'questionable' activity may have transpired. One recent example of this are the DC riots, which have people asking, such as at NPR, where the FBI was and why they were not informed about the potential for chaos.
In late December, the New York Police Department sent a packet of material to the U.S. Capitol Police and the FBI. It was full of what's known as raw intelligence — bits and pieces of information that turned up by scraping various social media sites. It all indicated that there would likely be violence when lawmakers certified the presidential election on Jan. 6.

The NYPD sent the information to Washington under the assumption it would be folded into a formal intelligence bulletin by the FBI and the Department of Homeland Security. The FBI's version is known as a joint intelligence bulletin. The DHS produces a threat assessment. These reports are typically written as a matter of course ahead of high-profile events. Local law enforcement officials see them as actionable intelligence — an early warning system to help them prepare for incoming threats.

And yet, for last week's deadly attack on the Capitol, an event the president himself had promised would be "wild," no formal report was ever released.

A spokesperson from DHS' Office of Intelligence and Analysis confirmed to NPR that the agency didn't produce any threat assessment about the possibility of violence on Jan. 6. The FBI confirmed it didn't produce one either. Instead, DHS provided a report about the "heightened threat environment during the 2020-2021 election season, including the extent to which the political transition and political polarization are contributing to the mobilization of individuals to commit violence," the DHS spokesperson said. (source)
Likewise, another similar concern was raised by the Chief of Police for the DC Capitol. According to Business Insider and reported on by Yahoo! News, he called the US Military six times for help at the Capitol with the rioters, but he was not given any help.
The departing Capitol Police chief said he tried six times to summon reinforcements before and during Wednesday's attack by supporters of President Donald Trump but was blocked from doing so by his superiors.

Speaking with The Washington Post on Sunday, Chief Steven Sund said he worried that the protest would turn violent but was unable to get help until the violence was at its peak.

"We knew we would have large crowds, the potential for some violent altercations," he said.

Four civilians and a Capitol Police officer died as a result of Wednesday's attack, which plunged Washington into chaos and prompted calls for President Donald Trump to be impeached for his role inciting the violence.

From 1 p.m. ET on Wednesday, as Trump supporters gathered at the perimeter of the Capitol, Sund made a string of requests for backup, he told The Post.

Here are some of the calls he described. Only the first brought immediate help:

At about 1 p.m. Sund called Robert J. Contee, the chief of police for Washington, DC, and 100 officers were deployed.

At 1:09 p.m. Sund called House Sergeant at Arms Paul Irving and Senate Sergeant at Arms Michael Stenger to get permission to deploy the National Guard. He said that the pair told him they would "run it up the chain," but he didn't hear back.

After that Sund called Irving twice more for a follow-up.

After that Sund called Stenger once more for a follow-up.

At 2:10 p.m. Sund got approval from Irving to call for National Guard support.

At 2:26 p.m. Sund joined a call with Pentagon officials and asked them to deploy the National Guard. Lt. Gen. Walter E. Piatt, the director of the Army Staff, is said to have told those on the call that he could not recommend calling in the Guard.

Sund recalled saying on the conference call with Piatt and others: "I am making an urgent, urgent immediate request for National Guard assistance. I have got to get boots on the ground."

Sund said Piatt responded: "I don't like the visual of the National Guard standing a police line with the Capitol in the background."

During the call, Sund repeated several times that the situation was "dire," John Falcicchio, the chief of staff to Mayor Muriel Bowser of Washington, told The Post.

In a statement to Insider Monday afternoon, Piatt denied blocking Sund's request, saying: "I did not make the statement or any comments similar to what was attributed to me by Chief Sund in the Washington Post article."

"Neither I, nor anyone else from DoD, denied the deployment of requested personnel," he added, stressing that while he was leading the call, during which he told participants that he was not the approval authority, the secretary of the Army was talking to the acting defense secretary to get approval.

Piatt said that approval to deploy the National Guard came through roughly 40 minutes after that call started. (source)
It is impossible to tell me that the military and FBI did not know what was going on. We also know that Mayor Bowser's statement about police to stand down a day before the riots was suspicious.
This is what I am talking about- there was not "insurgency" or "insurrection" taking place at the capitol . If it was a real threat to the government, the military would have cleared the crowd in minutes, and would have if not already been there, arrived in probably 90 seconds.
The US is the most powerful nation in the world. We have the strongest army, and we routinely invade and destroy or overthrow whole nations who do not submit to our will- just ask Iraq, Syria, Libya, Afghanistan, Guatemala, Panama, Somalia, or other countries. We are the world's largest arms dealer, we are actively preparing for multiple wars with major nations on multiple fronts, and are at the front of military invention and innovation.
You mean to tell me a crowd of a few thousand people with red hats waving signs could just "storm" the nerve center of the world's strongest empire, surrounded by military bases and is one of the most heavily guarded places in the world?
If you believe, that, you might also believe Marsha Blackburn's advertisement when she said that starving, hungry, poor people fleeing their home in Central America were a bunch of dangerous terrorists.
As I noted, and many others, there are videos of police opening the capitol gates, lead by a man dressed in a fur suit costume with pagan symbols on his body.
What I will say is that, if you are not questioning if the protests were not just allowed, but ENCOURAGED and ACTIVELY DESIRED, and FACILITATED by those in power, one may be missing out on a lot of what may be happening, because while it cannot be 'definitively proven', the excuse of 'mistakes were made' just does not work out so easily as an excuse where the consistency of said 'mistakes' seems to be over and over, and just at select times and circumstances when events are politically exploitable.