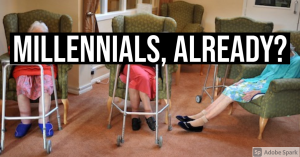 Millennials have been criticized for many things, some necessary, and others not. What can be said about the generation is that it is very sad, with a lot of wasted potential and a lot of opportunities stripped from it due to bad advice from family about debts and now two major recessions. The generation is in a historical debt hole from which most will never be able to climb out. This has greatly obstructed the formation of families, marriage, and the purchase of major expenses such as cars and homes.
Now there is another trend potentially emerging, which has been discussed for some time, which is that of 'co-living', where people rent rooms in a large manor and live together like an apartment building but with more community as the Wall Street Journal reports.
Young professionals who fled big cities for small towns during the pandemic are providing an unexpected boost to a type of real estate geared toward communal living.

Many of those who left were seeking fresh air, more space and distance from infection clusters, but they also found the prospect of being isolated in the country daunting. So they have been looking for companionship at remote co-living spaces, where tenants rent furnished rooms in big, shared homes.

These former vacation homes, farms or converted hotels offer a shared office space and a place to sleep for those who want temporary accommodation.

European millennials have been at the forefront of this trend. Coconat—short for community and concentrated work in nature—is in a village outside Berlin. The 5-acre property, based in a converted manor, includes shared offices, a sauna, a swimming pond, a yoga studio and 20 rooms for guests who get three meals a day and pay less rent than for a Berlin apartment.

"Every room is taken, and it's surprising," said co-founder Julianne Becker. "The people really want to get out of the cities."

Coconat is trying to strike a balance between being free to socialize and avoiding the risk of Covid-19.

Residents are asked to socially distance and wear masks, and staff air out rooms regularly. The space hasn't had any infections, Ms. Becker said, but other co-living operators recognize the chance. (source)
What's next? Jell-o cups?
But seriously, how is this setup different from a nursing home, minus the nurses?
Millennials, who seem to be disproportionately isolated in comparison to other generations, like all human beings, seek community, and this is an attempt to substitute for it.
However, such an arrangement- living in a communal home -while it may have some benefits, does not seem healthy long term. It seems rather depressing, and a recipe to provide the feel of 'apartment life' and cheap living, but actually not growing up at all, living in a state of perpetual adolescence and more importantly, indebtedness.
It will be interesting to see if this becomes more common. I do not expect it to become a 'standard' for Millennials, but it is another emphasis that the Millennial state is already very sad and is not getting better for the most part, and this is jut another point emphasizing their 'failure to start' and continued decline.