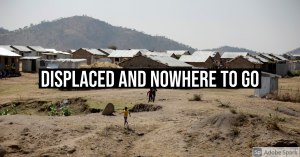 While life continues for most of the world, the northern Ethiopian region of Tigray has been wracked with horrendous violence following the recent conflict there that is potentially provoking another refugee crisis and wave of migration out of Africa. According to the National Catholic Reporter, the humanitarian crisis is growing as international aid agencies have been largely cut out of the region as countless numbers remain displaced.
With communication and access to Ethiopia's crisis-ravaged Tigray region cut off, Catholic relief and other humanitarian agencies are having difficulty responding to those in need there and in refugee camps in neighboring Sudan — among them pregnant women, vulnerable groups and newly born babies.

Thousands of Ethiopians have fled Tigray, Ethiopia's northernmost region on the border with Eritrea, as national government forces have sought to reassert federal control over the area. Many are arriving in western neighbor Sudan without even the most basic necessities, say aid agency officials.

The bigger impact has been on fleeing women, who also face heightened risk of sexual violence and abuse as they journey. It has been worse for those pregnant or those who have just given birth.

The United Nations Population Fund estimated in late November that more than 700 of some 7,500 women refugees arriving in Sudan from Tigray were pregnant.

Other women and girls have just survived gender-based violence and are in need of specialist health care, which is in short supply. As the numbers tick up, so does the desperation and vulnerability of even more Ethiopian women from Tigray.

A 52-year-old Ethiopian refugee who recently arrived at a Sudan refugee camp after fleeing Tigray said there has not been sufficient aid from responders and humanitarian agencies to assist everyone in need. As a result of the shortages of relief material, only the fittest are able to rush to collect food when aid parcels are delivered.

Speaking through a humanitarian worker with the nongovernmental organization CARE International, the woman, from the city of Humera, said: "Nursing mothers and children are not getting help because the youth push them out of the way during distributions." (source)
Since the area has been so ignored and the potential for the crisis to worsen is so severe, it will be an important trend to see if things "stabilize", politically speaking, or if they get worse, for if the latter happens, then like what happened in 2015, it will provoke likely another refugee crisis, for a large part of the migration crisis of 2015 and 2016 was driven by fighting in east Africa that caused many persons from Eritrea and other parts in the surrounding regions to flee.