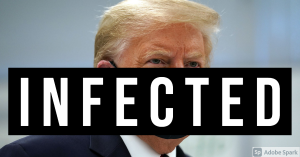 Has the October Surprise we have been wondering about arrived? Or perhaps one of several surprises? According to Yahoo! News and a series of other news sources, President Trump and his wife Melania have both tested positive for COVID-19.
President Trump announced on Twitter early Friday morning that he and First Lady Melania Trump have "tested positive for COVID 19."

"Tonight, @FLOTUS and I tested positive for COVID-19. We will begin our quarantine and recovery process immediately. We will get through this TOGETHER!" Trump wrote.

Trump made the announcement about two hours after he said that he and the first lady were "waiting for our test results" following the news that Hope Hicks, a top White House aide with whom they had recently traveled on Air Force One, had tested positive.

"Hope Hicks, who has been working so hard without even taking a small break, has just tested positive for Covid 19," Trump wrote. "Terrible! The First Lady and I are waiting for our test results. In the meantime, we will begin our quarantine process!"

The White House did not immediately respond to requests for comment about the total number of people in the president's inner circle and staff who may also have been infected with the disease, which, as of Friday morning, has killed at least 207,789 Americans.

A spokesperson for Vice President Mike Pence did not immediately respond to requests for comment about whether he was tested for COVID-19 in the past 24 hours.

At 74 years of age, Trump is at increased risk for serious complications from COVID-19, the disease caused by the coronavirus. His testing positive could also have major implications for the presidential election, which is just 32 days away.

Trump's doctor, Sean Conley, said in a statement that "the President and the First Lady are both well at this time, and they plan to remain at home within the White House during their convalescence."

Trump, who trails former Vice President Joe Biden in most national and key swing state polls, had planned numerous campaign events in the coming days. Sickness or a lengthy quarantine could prevent Trump from attending the next scheduled debate with Biden on Oct. 15, or from campaigning in the final stretch. (source)
I do not have much to comment on this for the time. Rather, given how close the country is to Election Day and all of the talk, for even thought it is likely that this will benefit Trump's campaign, it is more prudent to watch the fallout from this announcement, as one can only guess what the implications will be.