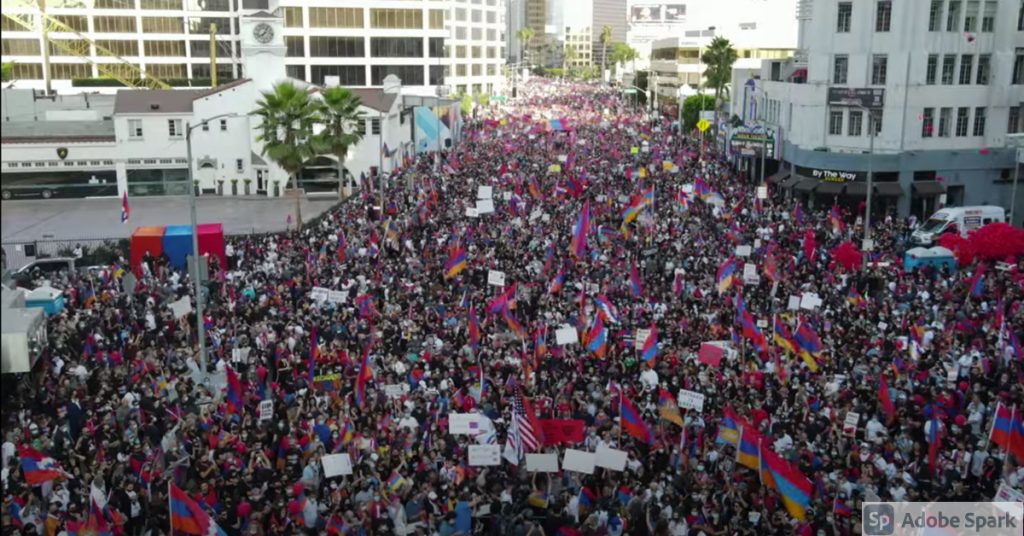 By Theodore Shoebat
Up to 100,000 people gathered together in Los Angeles to protest Turkey's war against Armenia in Nagorno-Karabakh. As we read in a report from KCAL9:
A Pro-Armenia rally held on Sunday afternoon in response to the ongoing Armenia and Azerbaijan conflict, drew up to 100,000 attendees, the LAPD estimated.

The "Artsakh Under Attack: March for Victory" was scheduled to begin at 3 p.m. at Pan Pacific Park and conclude at the Turkish Consulate in Beverly Hills.

"We stand with our brothers and sisters in Armenia and Artsakh and the diaspora in L.A.," Los Angeles Mayor Eric Garcetti said. "We welcome the ceasefire and it must be respected. We need our national leadership to step up and help bring peace to the region. Turkey must disengage."

Los Angeles County is home to the nation's largest Armenian diaspora, and the reported cease-fire agreement came after days of protests and demonstrations throughout the L.A. area to bring attention to the ongoing conflict in the region.

Armenia leaders have accused Azerbaijan of breaking the cease-fire, while Azerbaijani leaders are alleging it is Armenia that was in breach.

Minutes after the truce reportedly took effect, the Armenian military accused Azerbaijan of shelling a settlement inside Armenia.
The crowds were indeed huge:
📍Los Angeles with #Armenia, #Artsakh 🇦🇲🇺🇸#ArtsakhStrong 🇦🇲pic.twitter.com/4B4qJhoLK2

— Support Armenia 🇦🇲 (@SupportArmenia) October 12, 2020
Captured tens of thousands that came out in support of Armenia and Artsakh in #LosAngeles today. We dance and sing our way through life. Turn up the volume!

Please donate to @ArmeniaFund and support our brothers and sister back home.#Armenia #Artsakh #DefendArmenia pic.twitter.com/B90SDPTSjl

— aguyinfilms (@aguyinfilms) October 12, 2020