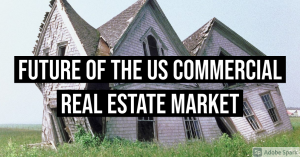 One of the trends that I have repeatedly noted at Shoebat.com is the jeopardization of the commercial real estate market. Most of my focus has been on the retail and housing markets, as this is the greatest concern and most easily measurable facets of this which one can trace a trend it, but it is the whole market itself. Basically, if you are in commercial real estate, now is the time to sell or unload as fast as possible, pay off debts, and run to the hills because the market is going to burn.
This trend has recently taken another fascinating development, and one which I expected to see at some point but did not have enough evidence of to directly corroborate, and that is the reduction of office space as COVID-19, by making people work from home, have many companies realize that some office space can be reduced. Zero Hedge reports on this, with 76% of CEOS saying there will be a small to significant reduction in the future.
The virus pandemic has accelerated more flexible work options for employees, with many companies instructing employees to work remotely through 2021, or in some cases, permanently. As a result, according to a new survey, CEOs have said they will slash office space, a move that could ripple through commercial real estate markets, all the way down into local economies.

In collaboration with Deloitte, Fortune surveyed 171 CEOs between Sept. 23 to 30, found 76% of respondents are expected to reduce office space size in the near term. About 28% of them said they would need "a lot less" corporate space.

The survey is an eye-opener for all the empty office buildings in major metro areas as remote work continues to dominate. The prolonged economic downturn and persistent virus pandemic are whipping up a perfect storm where companies must reduce their corporate footprint.

Remote working, continued virus pandemic, social unrest, and a surge in violent crime have contributed to a mass exodus of city dwellers who have escaped to suburbia. Among CEOs surveyed, 40% said remote working has increased productivity. Inversely, 31% of CEOs said remote working decreased productivity.

Corporate America scaling back on office space will continue to pressure certain CMBS tranches that are heavily weighted with office buildings, suggesting as remote working continues, for at least the next 6 to 12 months, building operators could experience slumping rental income, resulting in missed mortgage payments and could send deliquesces soaring. (source)
This is not to say that commerical real estate is going to dry up and disappear. Rather, it is that the nature of the market itself is changing. and this trend is not going to just extend to business operations, but rather the whole restructuring of the financial system itself.