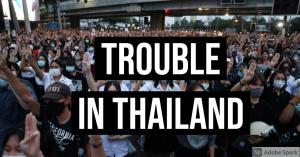 The southeast Asian nation of Thailand, known as being the "land of a thousand smiles" as well as the place where European and American men go to partake of the numerous licencious activities from which the nation earns a considerable amount of revenue that is hidden under the moniker of "tourism", is ruled by a king who tolerates no criticism of his rule. Even though he spends most of his time in Europe, specifically in Germany (which is also a major source of customers to her ill-reputed businesses as well as a source of foreign wives for German men), amid the massive protests in Thailand against the king is also calls in German that the Thai King 'cannot reign from abroad', suggesting he may be expelled or forced to step down.
In Thailand, the monarchy is revered almost as a divine force and has great influence within Thai society. The current king, Maha Vajiralongkorn, ascended to the throne in 2016 and has since sought to increase his direct control over the country's institutions. He ordered two army units to be put under the authority of the palace and was given control of the crown's multi-billion-dollar holdings by the legislative assembly.

But one thing that is also sparking the protesters' anger is the king's decision to spend most of his time not in Bangkok, but in Germany.

Since 2007, the Thai king has spent long periods of time in Bavaria in southern Germany. He owns a villa in the lakeside town of Tutzing, but recently also sojourned at the Sonnenbichl Hotel in Garmisch-Partenkirchen. The king's 15-year-old son even goes to school in Bavaria.

The king's presence in the region is often reported on in German tabloids, and photos of the monarch riding his bicycle in the area have surfaced online.

Thai protesters have criticized both his absence from Thailand and the cost of his stays in Germany.

Junya Yimprasert left Thailand in 2010 and now lives in Europe. She has been campaigning to showcase what she sees as the monarchy's grave failings for years.

She told DW that as Thailand's head of state, King Vajiralongkorn shouldn't be conducting official business from abroad.

"The Thai people are getting angrier because he is not in Germany just as a tourist and hasn't stopped intervening in Thai politics," she said. "He is here in Germany and continues to have influence."

With her organization Act4Dem, she has carried out a series of protests across Germany in collaboration with the German non-profit organization PixelHELPER to raise awareness and push for change in Thailand.

She has projected slogans criticizing the king on buildings all over the country, including the German Parliament and the Sonnenbichl Hotel. (source)
One of the trends not discussed is that due to the tourism and later, marriage of many Europeans and Thais, it is causing a national crisis in that it is forcing Thailand to reconsider rights for foreigners regarding citizenship as well as business investment, since foreigners who move to Thailand are treated as perpetual outsiders, and racism against them is common.
One can only wonder what the trends will bring, and given how Germany wants to assert herself around the world and her long history of relations with Thailand, what could happen. However, these protests in Thailand and the relations between Europeans and Thais will be something to watch for the future, as being the gateway to the pacific and a major economy in the region, what happens with the King will have major impacts on world business and politics at a time when European nationalism is rising once again.