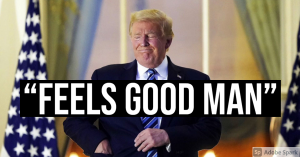 If one paid attention to the media blitz in the final countdown to the election, one would think that Biden was ahead. But not so fast, for as Shoebat.com has pointed out, this is likely not true, but a deception based on manipulated poll numbers and perceptions. Michael Moore, the famed liberal filmmaker and Democrat activist also echoes this sentiment, saying that people who believe that Trump is behind are deceiving themselves.
Filmmaker and political pundit Michael Moore – who correctly called Trump's win in 2016 (and accidentally made a bitchin' Trump ad) – is warning Democrats not to believe polls suggesting Biden has a giant lead. In fact, it may be within the margin of error.

"I need to remind people that the poll back in July said at that point that Biden was ahead in Michigan by 16 points. Trump has cut that in half. Trump has tightened virtually every one of these swing states…" Moore told The Hill – noting what we've been highlighting for months – namely that many Trump supporters are unwilling to tell pollsters their true political affiliation.

"Don't believe these polls, first of all. And second of all, the Trump vote has always been under-counted," said Moore. "Pollsters, when they actually call a real Trump voter, the Trump voter is very suspicious of the deep-state calling them and asking them who they're voting for…

…It is not an accurate count. I think the safe thing to do… whatever they're saying the Biden lead is, cut it in half – and now you're within the 4-point margin of error. That's how close this is."

Moore also noted that Trump has been strategically campaigning in 2016 Hillary territory in Michigan: "10 days ago when Trump had the big rally in Muskegon, Michigan – Muskegon County, over on the west side of the state on Lake Michigan – only two counties voted for Hillary on the west side of Michigan in 2016," said Moore. "Muskegon County was one of them. Trump chose not to go to a Trump county, because he won the state, he went to a Hillary county and had thousands of people there." (source)
MICHAEL MOORE SAYS PRO BIDEN POLLS GREATLY INFLATED
pic.twitter.com/thx1pDW18k

— The_Real_Fly (@The_Real_Fly) October 30, 2020
Michael Moore is no fool. Love him, hate him, or indifferent, he understands Americans and the voting process, and he knows what may or may not happen. Moore should not be written off, but taken seriously for what it is worth.