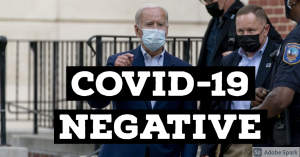 With so much focus on Trump and COVID-19, some have been asking, is it possible that he may have infected Democrat contender Biden? The potential outcomes for this could be either politically helpful or damaging, and what effect they would have on the already present trends is questionable. Nevertheless, given Trumps's attitude and his need to win key states, and knowing that Trump may have had COVID-19 during the first debate, a Biden illness may cause unexpected changes to public opinion of him. That said, the AP reports that Biden has taken a COVID-19 test and he has so far tested negative.
Joe Biden's campaign says the Democratic presidential nominee tested negative for coronavirus Sunday.

The results come five days after Biden spent more than 90 minutes on the debate stage with President Donald Trump. The president was diagnosed with COVID-19 days after the debate, and he remains hospitalized.

Biden had two negative tests on Friday, as well.

Biden is scheduled to travel Monday to Florida. His campaign said it will continue to observe public health guidelines on masks, social distancing and crowd sizes. (source)
The trend remains that Trump likely holds the upper hand. Regardless of what one may speculate, if Trump re-emerges from this virus in good health, it gives him an advantage to say how he survived 'the pandemic' and that Biden may not have. In a Trump way of speaking, one may hear something to the effect of 'The virus? Yeah, I had it. Nothing. Recovered fast. I have strong genes. Nothing at all. Biden? I don't know. Might have killed him. Not me. I survived the China virus. I'm stronger than ever.' Such a presentation would likely draw more public support for Trump and in key areas present Biden as weak and less competent than ever, and all to Trump's favor.