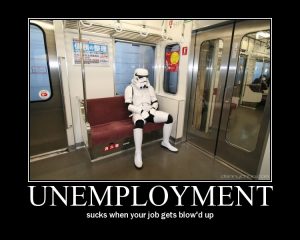 Unemployment is a terrible thing in the US, since due to the nature of the society, if one does not have money, one cannot participate in social life, and the ability to earn money is tied often to employment. As such, when unemployment rises, it causes social and economic problems, and if it is bad enough, can cause major disruptions to society.
According to a report from the Labor Department and reported on by The Hill, long-term unemployment has reached new records with no signs of serious improvement.
The number of people who have joined the ranks of long-term unemployment has spiked to a record high in a worrying sign of the economic recovery's health.

According to the Labor Department, the number of people out of work for more than 27 weeks increased to 2.4 million in September, an increase of 32.5 percent from the previous month. There are 4.9 million people who have been unemployed between 15 and 26 weeks.

Workers who have been separated from their jobs for more than 6 months typically have a more difficult time getting back to work even once the economy improves.

"Last week we saw the biggest spike in long-term unemployment since they started measuring long-term unemployment," said Michele Evermore, senior researcher and policy analyst at the National Employment Law Project.

The number of long-term unemployed workers is expected to rise in the months ahead, something likely to be exacerbated by President Trump's decision to scrap talks with Democrats on a COVID-19 economic relief bill before the elections. The talks were aimed at restoring at least some of the supplemental federal unemployment benefits that dried up at the end of July.

Without a new relief package, small businesses hoping for another round of forgivable loans will be left in the dust. The travel, leisure and entertainment sectors, in particular, may face closures and additional layoffs as colder weather makes dining and entertaining outdoors difficult.

Even if the pandemic comes under control, it could take years to return to earlier employment levels.

"It's bad news," said Evermore. "It's hard on people to be unemployed for such a long time. It's hard on their mental health, it's hard on their children's performance in school, and it makes their employment prospects much worse in the future."

The spike in long-term unemployment comes as the overall unemployment rate, which hit a high of 14.7 percent in April, dropped to 7.9 percent in September. The economy has only restored about half of the jobs lost since the spring and remains at a deficit of 10.2 million jobs compared to February.

Federal Reserve Chairman Jerome Powell on Tuesday cited the swelled ranks of the long-term unemployed as a primary reason more government support was necessary.

"There is a risk that the rapid initial gains from reopening may transition to a longer than expected slog back to full recovery as some segments struggle with the pandemic's continued fallout," he said in a speech urging Congress to pass more fiscal stimulus.

Powell also noted that the recovery thus far has been uneven, with low-wage service jobs typically filled by women and racial minorities taking the brunt of the losses.

In August, employment for the poorest quarter of the wage earners was down 21 points compared to just 4 percent for other workers.

The reason long-term unemployment has spiked is simple: More than 26 weeks have passed since the pandemic began, meaning that the tsunami of people who lost their jobs in the early days of the lockdowns are now reaching the long-term milestone.

But the fact that so many people have remained on the unemployment books for so long is a worrying sign for the economic recovery.

House Speaker Nancy Pelosi (D-Calif.), who had been pushing for hundreds of billions more in relief funds than the GOP was willing to agree to, slammed Trump for pulling the plug on the negotiations, citing Powell's analysis.

"Trump is wedded to his $150 billion tax cut for the wealthiest people in America from the CARES Act, while he refuses to give real help to poor children, the unemployed and America's hard working families," she said.

Pelosi appeared to be referring to a CARES Act provision, scrapped in the House Democratic HEROES Act, that allowed business owners to apply business losses toward nonbusiness income. Trump is under audit for using a similar provision from the Great Recession himself. (source)
Long-term unemployment is very serious and destructive to many. While one can "get a job", the question that matters to many is to get a job that one can live on. There are only seventeen states in which one can rent an apartment earning $17 per hour, and only four in which one can do this earning under $15 per hour, with no states lower than $14.13, the lowest being in Arkansas. Considering that 44% of jobs pay a media salary less than $18,000 year and a mean income of $10.22 per hour, it takes a minimum of two people to afford a simple apartment just to live in, let alon to account for other bills.
This is the catch. Many people are out of work, and while there is work available (but getting harder to find), a lot of it is at best a supplement but not a main source of income. The result of this is a downward spiral of most of the public towards poverty.
The combined trends of growing poverty, job instability, and long-term unemployment are all interlinked and are not going away any time soon until the debt issue is dealt with, and that will only happen when it is believe to be politically advantageous to discharge.