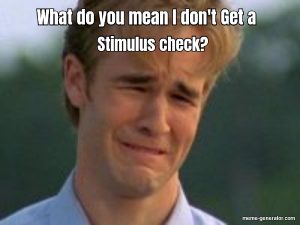 There are some things in life that one does and one does not do. One of the things that one does not do is to promise a monetary handout to the public and then postpone the offer until after Election Day, because it looks a lot like one is trying to use a "carrot and stick" method to coerce votes from the public. The public is notoriously known for being easily manipulated, but even many of them are still wise enough to this. However, this is what Trump seems to have attempted to do, for as NBC reports, Trump is promising a second round of COVID-19 stimulus checks, but only until after the election.
President Donald Trump urged Congress Tuesday night to approve piecemeal coronavirus relief measures he would sign, including a new round of $1,200 stimulus checks for Americans.

That turn came after just hours after he effectively killed discussions on a broader stimulus package until "after I win" the election. Both moves by the president, who was released Monday from the hospital where he was being treated for Covid-19, were made on Twitter.

"If I am sent a Stand Alone Bill for Stimulus Checks ($1,200), they will go out to our great people IMMEDIATELY. I am ready to sign right now. Are you listening Nancy?" Trump tweeted Tuesday night.

He said in another tweet that he would approve funding for specific struggling industries, such as airlines and small businesses, which is short of what House Democrats proposed.

"The House & Senate should IMMEDIATELY Approve 25 Billion Dollars for Airline Payroll Support, & 135 Billion Dollars for Paycheck Protection Program for Small Business. Both of these will be fully paid for with unused funds from the Cares Act. Have this money. I will sign now!" Trump said.

A senior administration official familiar with the president's thinking said Tuesday that a "large-scale stimulus package is on the sidelines," as Trump made clear earlier, saying the president felt it best not to string people along. But the White House appears to be planning to push a series of smaller, individual packages on mutually agreed-upon items.

Hours earlier, Trump threw cold water on the stimulus talks in a series of tweets.

"Nancy Pelosi is asking for $2.4 Trillion Dollars to bailout poorly run, high crime, Democrat States, money that is in no way related to COVID-19," Trump said earlier of the aid package passed by House Democrats last week, which was actually for $2.2 trillion, "We made a very generous offer of $1.6 Trillion Dollars and, as usual, she is not negotiating in good faith. I am rejecting their request, and looking to the future of our Country."

"I have instructed my representatives to stop negotiating until after the election when, immediately after I win, we will pass a major Stimulus Bill that focuses on hardworking Americans and Small Business," he continued. "I have asked Mitch McConnell not to delay, but to instead focus full time on approving my outstanding nominee to the United States Supreme Court, Amy Coney Barrett." (source)
This cannot end well for Trump in most outcomes. If he loses, the public may or may not get the checks, depending on what Biden does, and while Trump may have advantages in key states over Biden, it is well-known that broke, frustrated, broken people promised money to help them who do not get it from a person until "after Election Day" do not always think rationally, and they may take out their anger at Trump at the Ballot box. If Trump wins and he does not do it, the public outcry of anger may lead to physical violence. If he does do it, it will only further the US down the road to major currency devaluation.
If Trump had said nothing, the economic problems would remain, but it might not pose a political threat to him. Now, one may have emerged because of this.
The saving grace of this would be if Trump is able to get a $1200 check bill separated from the rest of the bill currently in Congress. THAT would reverse a lot of the frustrations the public may have against him based on such a statement, and may give him an even bigger boost over Biden than what many would expect.
With the stakes so high, it will be interesting to watch the ballot boxes this November.