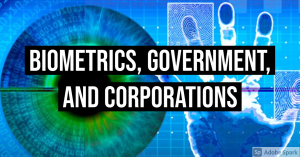 A proper definition of 'fascism' is the merger of state and corporate power. While corporations and goverments throughout history have merged, it is when the two do so in a way that creates a sort of 'supermachine' that results in the creation of state run by a materialistic philosophy in which there is no barrier that binds and separates those in power and those who are under the power of the previous mentioned.
Historically finance and heavy industry have been involved in this competition, but now one is seeing the merger of data into this as a new and third sector, where as much information about all is being gathered up into databases and being used in the same way as the previous two have. It is a new version of an old trend that has played throughout many cultures across history.
It is then with interest that NextGov reports that the Federal government is moving her biometric database to Amazon servers.
The Defense Department wants to make major improvements to its biometric surveillance capabilities, starting with moving its databases and entire operational system to a cloud environment hosted by Amazon Web Services.

The current Automated Biometric Identification System, or ABIS, environment is split between DOD-owned, on-premise systems and AWS-hosted cloud backups. As part of a new pending solicitation, DOD plans to move the main operational environments to the cloud and begin a set of major capability improvements.

A request for information posted Tuesday to beta.SAM.gov outlines the department's plans for Biometric Enabling Capability Increment 1, the second phase of a program that got its start in 2007 with Increment 0, which resulted in the launch of ABIS v1.2 in 2014. Since that time, the program has upgraded ABIS to version 1.3 and established plans to expand the system with new capabilities and a cloud architecture that enables global access.

The system contains biometric identifiers—including face, fingerprint, iris and others—on more than 18 million people, most of whom are identified enemy combatants.

"DoD ABIS provides 24/7 operational support enabling time-sensitive missions requiring on-demand biometric identification and identity verification of known and/or suspected threat actors worldwide in support of Joint-All-Domain-Operations and Homeland Defense," according to the draft performance work statement.

The system is set up to provide biometric authentication and identification to troops throughout the world and connect with databases managed by other federal agencies—such as the Homeland Security Department and FBI—as well as international partners. ABIS is built on common standards used by the Army and the rest of the Defense Department, as well as "industry standards for system development and operational procedures."

The current system is comprised of five separate working environments, including on-premise operational and development environments, operational and disaster testing environments and a "fully functional" cloud-based backup operational environment hosted in an AWS cloud.

ABIS v1.3 also has five subsystems: the ABIS Core that manages all workflow throughout the system; the Search Core, a commercial off-the-shelf product by Morpho Biometric Search Services that matches various biometric markers with stored records; the Examination Tools widget where investigators submit and review searches, powered by commercial tools Athena THEMIS and WHORL; the ABIS Portal, the main user interface; and the System Administration Tools used by IT managers to maintain the system.

The contract outlined in the RFI will be built around two deliverables: ongoing operations and maintenance of ABIS and incremental improvements and rapid deployment of new capabilities, including a wholesale move to the cloud.
The operations and maintenance part of the contract will include general upkeep of the existing system, as well as decommissioning the on-premise parts of ABIS v1.3 that will be moving to a cloud environment as part of the first wave of improvements.

While major improvements are covered under the second directive, the contractor will be expected to keep the current capabilities up-to-date, including developing and implementing a technology refresh plan "to prevent obsolescence and keep pace with technological improvements," according to the performance work statement.

The secondary development process is being organized through three "capability drops," with the first covered under the pending solicitation, and subsequent drops planned as change orders to the final contract.

"Though similar to traditional program increments, the capability drops will focus on rapid software development and fielding," with 18-month cycles from development to deployment, the RFI states.

The first capability drop will consist of a number of new features, including automating sharing between ABIS and the intelligence community's Identity Intelligence Analytic Resource, or I2AR; the ability to send secure messages across the department's secure network, the Secret Internet Protocol Router Network, or SIPRNet; and upgrade the system architecture to allow the addition of new, improved commercial matching algorithms as they are developed. (source)
This is a very interesting trend in that while Google is facing an antitrust suit, Amazon continues seemingly to grow in size.
One can only wonder exactly the details of what is happening. However, what can be said is that the trend towards larger and more consolidated government amid and ever poorer population is a trend that is firmly in place and is going to grow for the years to come.