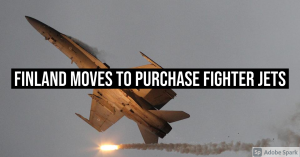 As Shoebat.com is noting the trends toward militarization, such as with nationalism and more interestingly, the purchase of fighter jets by Switzerland, now Forbes magazine reports that Finland is moving to purchase a series of fighter jets, with the question being if they will come from American or European manufacturers.
On October 9, the U.S. Defense Security Cooperation Agency authorized Finland to purchase dozens of Boeing BA FA-18E/F Super Hornet or Lockheed LMT F-35A Lightning II multi-role jet fighters.

Both documents also authorized sale of hundreds of munitions, including 200 AGM-158B JASSM-ER stealth cruise missiles that could reach Moscow when launched from Finnish airspace, as well as JDAM, JSOW and GBU-39 precision guided air-to-ground munitions and AIM-9X short-range air-to-air missiles (though curiously, no additional medium/long-range AIM-120 air-to-air missiles).

However, the authorization doesn't mean Finland is committed to purchasing fighters from either company for its HX Challenge program, which seeks to procure 64 multi-role jet fighters to replace its current fleet of FA-18C/D Hornets due for retirement between 2025 and 2030.

The American jets still face competition from the Swedish Saab JAS 39 Gripen-E, the French Dassault Rafale and the multinational Eurofighter Typhoon. Helsinki is expected to announce its choice late in 2021.

Furthermore, the $14.7 billion and $12.4 billion authorizations for the Boeing and Lockheed aircraft, respectively, exceed the €10 billion ($11.7 billion) price cap Helsinki has set for the program.

More broadly, there's reason to believe the HX fighters' projected total life cycle cost of €20 billion is also unrealistically optimistic, and project manager Lauri Puranen has admitted that Finland's eventual order could end up counting below the initially stipulated 64 aircraft.

Nonetheless, despite the economic pain dealt by the Covid-19 pandemic, Helsinki has inflated its annual defense budget by 54% to $5.8 billion to prepare for the initial costs of the HX jets.

Earlier, the FAF concluded that drones and ground-based air defense missiles couldn't replace the full spectrum of capabilities offered by manned multi-role fighters.

Helsinki has emphasized that is seeking jets that can endure harsh weather and low temperature extremes while performing diverse missions including offensive and defensive air superiority, anti-ship and air-to-ground strike, networked surveillance/reconnaissance capabilities, and deep strikes beyond Finnish borders to deter against foreign attack (hence the JASSM cruise missiles).

Because Finnish airbases are themselves exposed to attack, it even prefers to procure jets capable of taking off from rough forward air strips or even civilian highways.

Finland maintain polite but wary relations with neighboring Russia, and Helsinki has begun cooperating increasingly closely with NATO despite not being a member state. For examples, Finnish airbases and Hornet fighters participated in the huge 2018 Trident Juncture air/sea/land military exercise, which simulated a NATO defense of Norway from amphibious invasion. (source)
With growing competition between the US and Europe, Finland's decision will be something to watch, as it may be another sign of a move away from the US that could result in a future turn against the US.