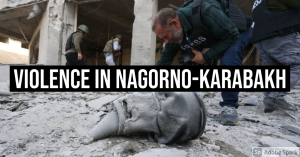 With chaos and murder on both sides, the horrible conflict between Armenia and Azerbaijan continues. A few days after a brutal murder of Armenians by Azeri fighters, now the BBC reports that Armenian fighters attacked and killed twenty-one Azeri civilians.
Azerbaijan has accused the Armenian military of killing at least 21 civilians in a missile strike as fighting over the disputed territory of Nagorno-Karabakh intensifies.

Dozens more were reportedly wounded in the strike on the Azeri town of Barda, not far from the ongoing clashes.

Armenia has denied carrying out the attack, and accused Azerbaijan of targeting a maternity ward in the area.

Fighting over the region of Nagorno-Karabakh erupted on 27 September.

The mountainous territory is officially part of Azerbaijan, but run by ethnic Armenians.

What happened in the latest strikes?
Azerbaijani presidential spokesman Hikmet Hajiyev said Armenian forces had "used cluster munitions to inflict excessive casualties among civilians" in Barda, in central Azerbaijan.

Images posted on social media showed damage to streets and vehicles with what appeared to be several bodies in body bags laid out on the road.

One local resident, Ulviyya Babayeva, said she was in her car nearby when she heard three explosions and decided to head to the area.

"We saw a fire… bombs have been dropped," she told the BBC. "One fell on the car outside a bank building, fragments [of bombs] everywhere, [broken] glass [of cars/windows]… one of the bombs fell outside fire rescue station, there are dead and injured people."

olice officers and other service personnel were sent to Barda to help transport the injured to hospital, as well as provide additional security in the town, the Azerbaijani interior ministry said.

The ministry added that the attack was a gross violation of international humanitarian law, and that the Armenian government should accept responsibility.

Separately, a statement issued by Karabkah officials said Azerbaijani forces had struck a maternity hospital and other "civil infrastructure" in the territory's city of Stepanakert. (source)
This war is much more than just "Christian versus Muslim", and it is really a continuation of geopolitical trends between Russia and Turkey/NATO. The situation is very complex, it is very sensitive, and could erupt into something far worse.
While the US election is consuming domestic political discourse, this conflict cannot be ignored lest the world unintentionally imperil herself in a web of possible and terrible consequences.