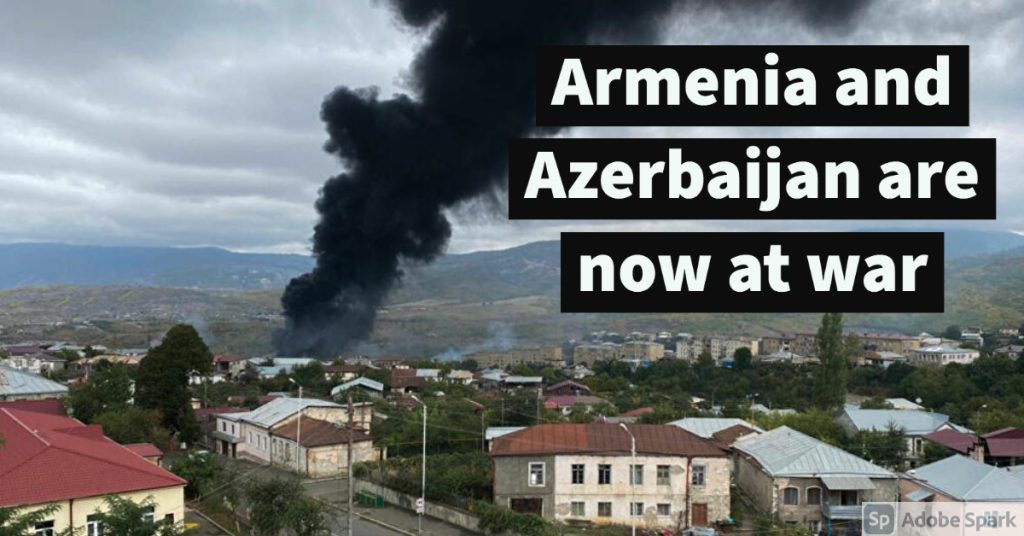 By Theodore Shoebat
As hundreds of people have been slaughtered by shelling, as homes are shattered, the empires of old rise, and the world we have become so accustomed to is deteriorating before our eyes. Turkey, Russia and France are getting involved in the conflict within Nagorno-Karabakh, but the United States has been greatly silent, still treading upon the path of isolationism. The US's absence leaves a vacuum for other superpowers to take its place and use the conflict to the advantage of their own power and control. We are already seeing this with Turkey; the fact that a Turkish F16 shot down an Armenian fighter jet; that Turkey has brought in Syrian fighters into Azerbaijan, and that Turkey supports Azerbaijan under the saying of "one nation with two states", reflects the reality of a reviving Turkish beast, with the US allowing the Anatolian leviathan to come back with its tentacles outstretched into its former territories. 
Armenia and Azerbaijan have not abated their conflict, but have only continued to further entrench themselves in the bloodshed, even going so far as to now target civilians. On October 4th of 2020 it was reported that Azerbaijan bombed an Armenian neighborhood in Stepanakert, the biggest city within Nagorno-Karabakh, an attack which was described by an Amnesty International investigator as "a new and completely unacceptable escalation of the Armenia/Azerbaijan conflict: the use of banned cluster munitions against civilian areas in Stepanakert."
According Bernard Smith, reporting from Stepanakert for al-Jazeera, Stepanakert was under intense bombardment since early on Sunday morning (October 3rd, 2020). "Air-raid sirens wailed across this city as a barrage of rockets and mortars rained down," he said. "There has been considerable damage on the buildings in the city centre," added Smith, calling it "a very difficult day for the people of Stepanakert … People were unable to go out. They are hiding in the bomb shelters. Civilians are on the receiving end of this bombardment." There is footage in which one can see the buildings being shook and shattered by the bombing under the eerie sound of alarms:
But Azerbaijan claims that this was simply a retaliatory attack after receiving rocket fire from Stepanakert. Moreover, Baku also affirms that Armenian armed forces launched rockets at the towns of Terter and Horadiz in the Fizuli region. The foreign ministry of Azerbaijan stated that an Armenian rocket hit the Azeri city of Ganja, killing one persona and injuring four others. Baku is now threatening that it will destroy military centers within Armenia itself. The transpiring story attests to the moribund reality that is unfolding before the world's gaze: this conflict is not going to stop anytime soon, but is intensifying in its escalation. "Azerbaijan will destroy military targets directly inside Armenia from which shelling of its population centres is taking place," said the Azeri presidential aide Hikmet Hajiyev. The Armenian de facto Republic of Artsakh within Nagorno-Karabakh has affirmed that they did target Ganja but only a military base and ceased their bombardment to avoid civilian death. According to Al Jazeera's Sinem Koseoglu, reporting from Ganja: "People here are telling us that approximately an hour after a rocket landed, a second hit another residential area a few blocks away, wounding two people." Also, Hajiyev said Armenian forces executed a missile attack against the industrial city of Mingachevir. "Mingachevir hosts water reservoir and key electricity plant. Barbaric expression of desperation," Hajiyev said on Twitter. Nonetheless, Armenian officials in Nagorno-Karabakh denied targeting the city.
The President of Azerbaijan, Ilham Aliyev, took to Twitter to report that his army seized the town of Jabrail and numerous villages. Armenia is calling this story a fabrication, but if it is true it would mark a serious escalation in the conflict. Aliyev did a televised address to his country demanding Armenia to set up a timetable for withdrawing from Nagorno-Karabakh, and in turn Azerbaijan would end its military operation. "Azerbaijan has one condition, and that is the liberation of its territories," he said. "Nagorno-Karabakh is the territory of Azerbaijan. We must return and we shall return."
But what is also disturbing is America's silence and absence in the conflict. People will argue and say that this is not America's problem. But the reality is that America is not an isolated country, but a global hegemony, and if America is not involved in a particular conflict, not only is it stripping itself of its geopolitical leverage, it is creating an opportunity for both Russia and Turkey to take advantage of the chaos to reestablish control in a region over which the Russians and Turks have historically controlled and fought each other. When Russia and France called for a ceasefire in Nagorno-Karabakh, the United States did not have its head in the situation. Carey Cavanaugh, a US ambassador who worked as a mediator between Armenia and Azerbaijan under the Clinton and Bush Jr. administrations, described America's absence in the call for peace by France and Russia as "heartbreaking" and stated that "The US wasn't coordinated into that discussion". Thomas de Waal, a senior fellow with Carnegie Europe who researches the Caucasus, explained: "The Americans have withdrawn from this issue… If Trump has heard of Azerbaijan, it's because it's a place he wanted to build a Trump tower in." It wasn't until five days after fighting broke out that a joint Minsk statement was made by the US, France and Russia. Nonetheless, Secretary of State, Mike Pompeo, insisted on Fox News on an American isolationist position in regard to the Caucasus conflict:
"Our view is that this has been a longstanding conflict between these two countries in this particular piece of real estate… We're discouraging internationalization of this. We think outsiders ought to stay out. We're urging a ceasefire. We want them both to back up. We've spoken to the leadership in each of the two countries, asking them to do just that."
America's indifference to the Armenian Azeri conflict was seen in 2017 when the US appointed Andrew Schofer to represent the US in the Minsk Group but did not give him ambassador status, which put him on a position lower than his French and Russian counterparts. Olesya Vartanyan, from the International Crisis Group, has made the comparison between the US government of 2016 and how it is now in regards to this intense situation:
"Secretary [John] Kerry took part in the first summit of the Azerbaijan and Armenian presidents along with his counterparts from France and Russia. And his presence definitely played a role, because they were able to agree on some measures to pacify the situation and prevent new escalations … Since this president [Trump], the interest in this conflict has mainly disappeared, and what we've seen is much less shuttle diplomacy going on. The guys who used to represent the US before would go to the region and speak to the leaders and sometimes civil society to learn their views, see what could be done, and they were coming up with different proposals. Not all of it worked, but it helped. … Because when these two sides (Armenia and Azerbaijan) are left on their own, what we've seen in the past and recently is there is a bigger possibility for tensions, new clashes and escalations."
The global hegemony that makes the whole earth shake in fear, is now withdrawing itself from the control it could easily impose. Turkey, NATO's second most armed superpower, is leading America's international coalition (NATO) in Azerbaijan, taking part in the war against Armenia.
It is not entirely clear what Russia is going to do in this conflict (or if Russia will do anything significant at all). But, the Prime Minister of Armenia, Nikol Pashinyan, is pretty certain that Russia will intervene. In an interview with BILD, he said:
"We have a joint air defense system, in the agreement on which it is clearly formulated in which cases it can also be used to ensure the security of Armenia… These are specific cases stipulated by the agreement, I am sure that if these cases arise, Russia will fulfill its treaty obligations"   
There has also been a report coming out of Armenia about how "a Russian government plane was sent to Armenia." And how "Various comments are made, linking the visit with the situation in the Nagorno-Karabakh conflict zone." It is possible that Russia will help Armenia. But, it is also possible that Russia won't do anything, perhaps on account of the fact that the Pashinyan administration began as a pro-America government that was distancing itself from Russia. As we read in a report from Jam News, the Russians may use the war as a way to pressure the Armenians to get closer to Russia:
"the new leadership of Armenia has embarked on a course of distancing itself from Russia. Pressure was put on Russia's henchmen and allies (Kocharyan, General Khachaturov and others).

The Russian leadership, led by Putin himself, sent signals for this course to be reversed.The mouthpiece of the Kremlin propaganda –Russia Today – directly accused the Armenian leadership of cooperation with Western foundations, Soros and others.

Moscow expressed its dissatisfaction with Pashinyan's too independent geopolitical plans in every possible way. And it is possible that the Karabakh conflict could turn out to be another lever of pressure at such a moment."
Remember what happened to Yugoslavia. The Yugoslavs cut off its ties with Russia (the Yugoslav Communist Party cut off ties with the Soviet Union in 1948) and knew that the Soviets could one day invade the Balkans. At one point Yugoslavia even had a "most favored nation" status with the United States. (See Chomsky & Dzalto, Yugoslavia). When NATO destroyed Yugoslavia, Russia did nothing about it. Today we have NATO (specifically Turkey) aiding Azerbaijan against Armenia, and it would not be surprising that Russia would simply allow the Turks to devastate Armenia as a way to pressure the Armenians to deepen ties with Moscow.
Azerbaijan is one of the most oil rich countries on earth. There are two major pipelines that run through Nagorno-Karabakh, which explains the immense geopolitical interest in the conflict. Ultimately, whoever controls Azerbaijan, controls its oil.
Regardless of what will happen, what we do know is that the conflict is getting worse and is being used by Turkey to revive its own power in the Caucasus. If the battle continues to intensify, if bodies continue to pile, if bullets continue to be fired, if cannons still roar, then the path to the leviathan of world war will continue to get paved, and the beasts of old will awaken from their slumber.