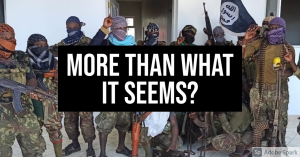 There are many things happening in the world right now, but in the southernmost regions of Africa, in the former Portuguese colony of Mozambique that borders with Zimbabwe, has heavy natural resources and as well has seen tremendous Chinese investment into her, suddenly the Islamic terrorist group ISIS has traveled to her and is waging a war in her. In response, Zimbabwe has discussed military intervention into Zimbabawe.
Zimbabwe urged the Southern African Development Community to help its neighbor Mozambique fight a devastating Islamist insurgency that's raising alarm across the region, saying it shouldn't be the only member state prepared to send troops.

Zimbabwe's ruling party "feels that Mozambique should not be expected to deal with a potential regional and security threat of this gravity and magnitude alone," Patrick Chinamasa, Zanu-PF's acting spokesman, told reporters in the capital, Harare, on Wednesday.

The 16-member regional bloc should invoke its mutual defense pact, under which any armed attack against a member state must be met with immediate collective action, he said. Mozambique's appeal to SADC for assistance has so far been unanswered, he said.

"Zimbabwe has the full capacity to intervene in Mozambique, but it must be a collective SADC-AU initiative," he said, referring to both the regional bloc and the African Union.

Last month, the U.S. approached Zimbabwe to help fight the insurgents in Mozambique's gas-rich north, where companies including Total SE and Exxon Mobile Corp. are planning to invest nearly $60 billion in natural gas facilities. In exchange for the assistance requested by the U.S., Zimbabwe Foreign Affairs Minister Sibusiso Moyo was reported to have asked that targeted sanctions imposed nearly two decades ago be removed.

"The hypocrisy of the U.S. to ask Zimbabwe to assist Mozambique when they have placed sanctions on Zimbabwe is perplexing," said Chinamasa.

Zimbabwe has a long history of involvement in Mozambique. The guerrilla army affiliated to its ruling party used the country as a base from which to launch attacks on then White-ruled Rhodesia in a 1970s liberation war. In the 1980s and 1990s, Zimbabwean troops intervened to quell a rebellion by militants affiliated to Mozambique's opposition Renamo party.

Government spokesman Nick Mangwana declined a request for comment. (source)
One may remember that the ZANU, under which Mugabe originally came to power and created the modern Zimbabwean nation, was supported by the USSR, which also has a historical precedent of interest in the nation.
With Russia attempting to rise, and Mozambique caught increasingly in what seems to be a struggle between the US/NATO and China, one may wonder- is Zimbabwe's move into Mozambique because of regional interests, or is there support possibly coming from Russia?
One does not know exactly what is happening- there are many details to be seen here. However, we can say that something is definately happening, and it is going to be important to watch.